Welcome to FU OTUOKE
FUO is one of nine new Federal Universities established by the Federal Government of Nigeria in
February 2011. ​
Read More
Admission! Admission!! Admission!!!
Post UTME Screening Results For
2021/2022
Academic Session Admissions
Apply Here
Welcome tO FEDERAL UNIVERSITY OTUOKE
The Federal University Otuoke (FUO), is one of nine new Federal Universities established by the Federal Government of Nigeria in February 2011.
Located in the heart of the oil-rich Niger-Delta Region of Bayelsa State, the University which is 21 kilometres South of the State capital of Yenagoa, occupies an expanse of 200 hectares (494 acres) in the Ijaw town of Otuoke.
Currently we have two Faculties: Faculty of Humanities/ Social Sciences which has 2 Departments and six programmes, and Faculty of Science which has 3 Departments and six programmes.
Current Students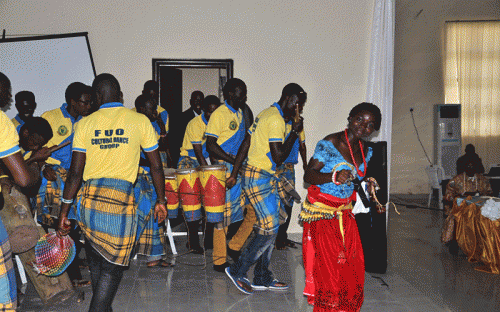 Our current students are privileged to have been selected from a large number of otherwise qualified candidates who sought admission into the university.  They are expected to take advantage of the first-class teaching and learning environment that has been created for all the university's stakeholders;  to graduate in record time; and afterwards upon graduation live productive lives to the honor and glory of themselves and Alma Mater.
Future Students
Students
If you're seeking a campus with an intimate and supportive environment, the Federal University Otuoke is exactly what you're looking for.
Parents
Family support and invlovement is important to student, therefore, we invite you to familiarize yourself with our community and of course participate in it.
Research
Research is at the core of the academic activities of the university, and all students, faculty and staff are expected to be engaged in it at various levels.  Research in energy (oil and gas, power), marine, wetland and bio-resources, conflict resolution and social dynamics, etc. will be our emphasis, geared towards improving the lives of the region's citizens as well as the nation at large. 
Alumni & Donors
Being a new university just established in 2011, we do not have alumni yet.  However, we have Friends of the university who serve in place of our alumni-to-be, and help to project our image positively beyond the university precincts.
We welcome donations in cash and kind to the university coffers, in grants, scholarships and endowment.   We seek to depend not only on government funds, and to reduce our percentage dependence on government from year to year while constantly seeking ways to justify government increase in funding to improve the good work that the university is doing.
On how to become a Friend of FUO, and/or how to donate to the university, please visit our Institutional Development Office and/or its web-page.. see also  http://www.fuotuoke.edu.ng/donations
faculty & Staff
Our academic and non-academic staff are a dedicated group of individuals committed to the teaching and welfare of the students, and committed to building a first-class teaching and learning environment where world-class research can also be engaged in. 
Visitor & Community
Our university is a public (federal) institution, and visitors are always welcome to our campus – just to see what we are doing, to visit their wards our students, etc.
The communities around Otuoke, Ogbia Local Government, etc.  are important to the university, and the creation of a mutually-beneficial town-and-gown enviroment is critical to its mission.
Post UTME Screening Results for 2021/2022
Check for your POST UTME Result
FREQUENTLY ASKED QUESTIONS
You are encouraged to pose questions, as they may become FAQs