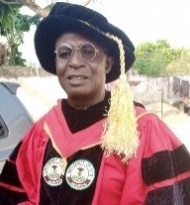 HOD's Welcome Message
It is interesting to work with a team of people whose different interests are targeted achieving a common goal. In the academic environment, we have found ourselves as members of the community of like-minds. Having found ourselves in the academic environment, it has become necessary that while we entrust our livelihood to the job, it is also mandatory that we key in the livelihood our students to the knowledge they are acquiring from us. The academic institution is an inspiration area and it attracts a growing group of future generation especially those who have opted to see schooling as a means to an end and a place to prepare themselves for the economic emancipation of their families. In this regard, business educators are expected to integrate their pedagogies of teaching and learning to the global labour market. In business education programme, it is our position to prepare our students for the 21st century workplace. This can only be achieved by teaching and training of students through the application of hands-on-training that will key into the global workplace. We therefore encourage our colleagues to see why it is necessary to see that digital literacy can provide them with the windows of acquiring the necessary competencies in the global world of work.
History of the Department
The Department of Business Education. Federal University Otuoke was established in 2016. The Department houses an academic programme that prepares students for the award of Bachelor of Science degree in Business Education (B.Sc Ed) with specialisation in four different areas namely:
Accounting Education
Management Education
Marketing Education
Office Information Management, and now added
Entrepreneurship Education
The philosophy of the Bachelor of Science degree in Business Education (B.Sc Ed) involves the teaching and training of students to develop problem identification skills, creative problem solving skills, innovative idea generation, to enable them obtain gainful employment in the private and public sectors as well as becoming relevant in entrepreneurship activities. The objectives of the department of Business Education are, among others, teaching and training to inculcate necessary competencies in students who upon graduation, can occupy leadership positions in various middle-level economic activities; to provide students with the necessary technological operation skills to enable graduates key into the emerging 21st century work environment. Courses in the department are designed to provide both theoretical and practical teaching and training in hands-on-training to students with a view to enhancing their search for employee-related job opportunities as well as equipping them for self-employment.
List of staff in the Department
S/N

Name

Designation

Area of Specialization

1

Professor

Business Education

(Entrepreneurship)

2

Prof. William J. Ubulom

Professor

Business Education

(Test and Measurement

3

Associate Professor

Business Education

(Accountancy)

4

Dr. Boma Isabella Dambo

Associate Professor

Business Education

(Educational Technology)

5

Dr. Felix Nwabochi

Senior Lecturer

Educational Management and Planning

6

Miss. Tiebebedigha Peibulou  Faith

Lecturer II

Business Education

(Secretarial)

7

Mr. Ambrose Eide

Assistant Lecturer

Business Education

(Management)

8

Graduate Assistant

Business Education

(Office Management & Technology)