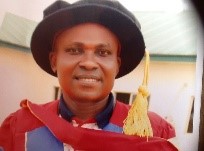 Dr. Festus Chukwunwendu Akpotohwo
Dr. Festus Chukwunwendu Akpotohwo hails from Obiaruku in Ukwuani L.G.A of Delta State. He holds a National Certificate in Education (NCE, Business Education, C.O.E, Agbor), B.Sc. (ed.) Business Education (DELSU, Abraka), MBA (DELSU, Abraka), M.Sc. Business Education (UNIZIK, Awka), Doctor of Philosophy (Ph.D) in Business Education (EBSU, Abakaliki) and a Graduate Diploma of the Chattered Institute of Personal Management of Nigeria (CIPMN, Lagos), including other Diplomas and Certificates in computer studies.
In his unquenchable taste for education, Akpotohwo sensed the debilitating problem of youth unemployment in Nigeria and resolved to carry out academic studies on entrepreneurship education in Nigeria. His articles and research publications amongst other authorities, contributed to the clarion calls for the entrenchment of entrepreneurship education as a general course of study in all tertiary institutions in Nigeria in 2009. He has contributed immensely to knowledge in the areas of Business, Entrepreneurship, Management, Human Resources Management, Accounting, and Vocational Education, etc.
Dr. Festus Akpotohwo was a lecturer at the College of Education system for eleven years. He had a brief passage through the Polytechnic system in his academic sojourn in 2011 to 2012 at the Federal Polytechnic, Bali, Taraba State. He also a former staff of the Niger Delta University, Wilberforce Island, Bayelsa State; between 2012-2021 and was a Acting Head of Department, Department of Vocational and Technology Education, Former Coordinator (Project/Seminar and SIWES), a member of the Faculty Exams and Post-Graduate Committees respectively. He is an Educational Consultant to some Educational Institutions and Small Business Enterprises in Delta and Bayelsa States. Presently, he is an Associate Professor at the Department of Business Education, Federal University Otuoke,Bayelsa State where he functions in several committees and as Coordinator – SIWES, students' Seminars/Projects.
Dr. Festus Chukwunwendu Akpotohwo who is also a onetime Financial Secretary, National Secretary and the immediate past National Vice President (II) of the Association of Business Educators of Nigeria (ABEN), an umbrella body of all Business Educators in Nigeria, is also member of other Professional Organizations with over seventy (70) publications in both International and Local scholarly Journals; including contributions to Books and authorship of Textbooks is his professional areas. His hobbies are: watching football, listening to news, reading, writing and research.
RESEARCH INTEREST: Business Education, Accounting, Entrepreneurship and Vocational/Innovative Education.
UNIVERSITY EMAIL: [email protected]
PUBLICATIONS: