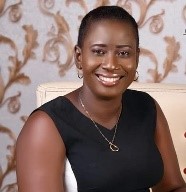 Dr. (Mrs.) Ibebietei Temple Offor
Director, The Director Academic Planning
Dr Ibebietei Temple Offor (PhD) is an associate professor of Measurement and Evaluation in the Department of Science Education. She holds Nigeria Certificate in Education (NCE) Integrated Science/Biology and Bachelor of Education (B.Ed) Biology at Rivers State College of Education, now known as Ignatius Ajuru University of Education Rumuolumeni , Rivers State. She was the recipient of both the institution and Rivers State Governor's award as the Best Graduating Student (BGS) school of science upon graduation. She obtained Masters in Education (M. Ed) Measurement and Evaluation and Doctor of philosophy in Measurement and Evaluation at University of Port Harcourt.
Dr Ibebietei Temple Offor has taught and supervised students at undergraduate and post graduate levels and has served as facilitator at National Open University of Nigeria (NOUN), National Teachers' Institute (NTI) and National Center for Technology Management (NACETEM). She is a research partner with NewGlobe Schools Inc. and Bayelsa Promoting Reform to Improve & Modernise Education (Bayelsa PRIME). She has several publications on the assessment of the cognitive and non- cognitive domains and also development of cognitive and non-cognitive instruments. As a prolific academic she has to her credit over 50 publications in National and International learned academic Journals and Books.
She is a member of many Professional Association including Association of Researchers and Evaluators of Nigeria (ASSEREN), Nigeria Society for Educational Psychologists (NISEP), Nigeria Society for Psychosocial Research (NSPR), The Nigeria Council of Educational Psychologists and Gender Studies Association of Nigeria.
E-MAIL