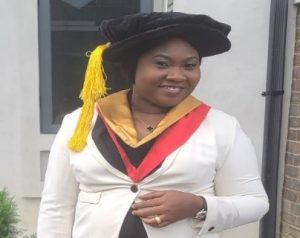 Dr. Oyintonyo Michael-Olomu
BRIEF PROFILE:
Dr. Oyintonyo Michael-Olomu, is from Amatolo, Southern Ijaw, Bayelsa State, Nigeria. She had her PhD in Industrial Sociology, 2018, from the University of Uyo Akwa-Ibom State, Nigeria. Her M.Sc. in Sociology (Institutional Analysis) 2012, University of Port-Harcourt and her First Degree (B.Sc.) in Sociology, 2007 from Niger Delta University, Wilberforce Island. Dr. Oyintonyo began her career as a teacher at the Word of Faith Group of Schools, Bayelsa State and Lutheran High School Obot-Idim, Akwa-Ibom, State in 2007 and 2009 respectively. In 2012, Dr. Oyintonyo Michael- Olomu was employed as an Assistant Lecturer in the Department of Sociology & Anthropology, Faculty of Humanities and Social Sciences, now Faculty of Social Sciences, Federal University Otuoke.
She is an active scholar with several publication and contributory chapters in Books. Her publications are specialized on Industrial Psychology, Cultural dynamism, Personnel Management and Family Institutions. Dr. Oyintonyo Michael-Olomu, is a member of the International Sociological Association, Nigerian Sociological Society, Nigerian Anthropological & Sociological Practitioners Association (NASA) and Nigerian Institute of Management (Chartered). She is a Teen Mentor, a devoted Christian and an ordained worker in the body of Christ. She is the Assistant Director of the Michael Olomu Foundation, a Non-Profit that takes Medication to Rural Areas, she is the Chairperson Myrtle International School Association (MISA) a member of the Local Schools Board (LSB) Living Faith Church Swali, Yenagoa, all in Bayelsa State. She is a member of the Value adding Personality (VAP) a teen mentorship association in Nigeria.
She is a consultant and Co-sponsor of the Spelling Bee Competition, Bayelsa State Chapter, a Trainee Instructor for the Christian Fellowship International Aluminous Body, the founder of Niger Delta Sociology Alumni Association. Dr Oyintonyo Michael-Olomu is a diligent and dogged worker, an upright and optimistic academic who has served and is serving in several University Faculty and Departmental Committees. She has grown in the rank and file in academic amongst which earned her the appointment as first Female Assistant Dean of the Faculty of Social Sciences and currently the Head, Department of Sociology & Anthropology. Dr. Oyintonyo Michael-Olomu is happily married and blessed with children.
RESEARCH INTEREST: Personnel Management and Industrial Sociology
UNIVERSITY EMAIL: [email protected]
PUBLICATIONS: Google Scholar, Researchgate