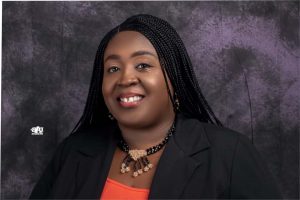 Mrs. Enobong B. Etukakpan
Mrs Enobong  B. Etukakpan, the Assistant Chief Editor/ Head of the Publications Unit Federal University Otuoke, holds a Bachelor of Arts in English  (B.A. Hons.) from the University of Uyo, Akwa Ibom State and a Masters Degree in Business Administration (MBA) from Federal University of Technology, Akure, Ondo State.
She joined Federal University Otuoke with a world of experience  having worked the media terrain from Daily Times Newspapers, to Gold Star Publications and Nigermart- a consulting firm based in Lagos and Abuja.
She has participated in and organized such acclaimed summits as The Nigerian Investment Market- Abuja, The 6th Leon H. Sullivan Summit, The Business Support Group for CHOGM( Commonwealth Summit) and several other International Summits organized in partnership with the Commonwealth Business Council (CBC) in  most Commonwealth Countries.
A member of the prestigious Nigerian Institute of Public Relations, she has published several Magazines and Books which include: Showcasing Bayelsa beyond Oil and Gas (an Investment  compendium on Bayelsa State), Ibom Guide Directory (a Business and Investment guide of major business concerns in Akwa Ibom State), New Generation Model School (a play) and Broken Dreams (a compilation of short stories on rape and domestic violence).
Go to Top