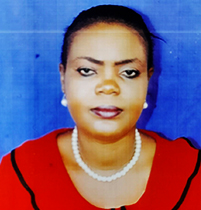 Head, Council & General Duties Unit
Mrs. Rita Agonodi, the Head of Council and General Duties Unit rose through the ranks to become a Deputy Registrar. She holds a Bachelor of Science (B.Sc.) in Business Administration (Marketing) Degree of the Rivers State University of Science and Technology, Port Harcourt. Before joining Federal University Otuoke, She worked and became Assistant Registrar in 2004.
In addition to serving in many committees in the University, She has also worked as Faculty Officer, Senate Officer, Establishments Officer cuttently, the Council Officer of the University.
She has the following professional certification. Member, Association of Nigerian University Professional Administrators (ANUPA) – 22nd November, 2006; and Member, Nigerian Institution of  Management (NIM) Chartered – 20th September, 2017.
E-Mail