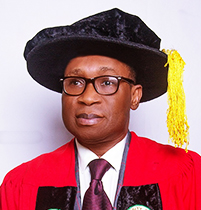 The Deputy Vice-Chancellor (DVC) elect of Federal University Otuoke, Christopher C. Onyema, PhD, 
is a Professor of English Discourse and Communication Stylistics at the Department of English and Communication Studies. He holds the Bachelors of Art (English and Political Science) Education and the Master of Art (English and Literary Studies) Degrees of the University of Calabar, and the Doctor of Philosophy Degree of the University of Uyo, Nigeria. He also holds a certificate in Open and Distance Learning of the University of London, and has served as Teaching Fellow at the Soochow University, Jiangsu, China. Prof. Onyema is also interested in Legal Studies.
He has published locally and internationally in the areas of Discourse and Stylistics of technical (legal) and literary communication, as well as Postcolonial environmental writing and new media.
Professor Christopher Onyema has taught at the undergraduate and postgraduate levels and successfully supervised many theses and dissertations. He has also served as external examiner in many Universities for undergraduate and postgraduate programmes, and also assessed many candidates for promotion to the professorial cadre. Prof. Chris Onyema is also a resource person for NUC Resource Verification and Accreditation Programmes.
He is on the editorial board of some journals, and belongs to such learned societies as African Council for Communication Education, Reading Association of Nigeria, Literary Society of Nigeria, the Linguistic Association of Nigeria, Nigerian Association for the Study of Language, Arts and Culture, African Studies Association, USA, Association for the Study of Literature and the Environment, Association of Nigerian Authors, and the Nigerian Institute of Public Relations, among others. Professor Christopher Onyema is also a   Fellow of Educational Administrators of Nigeria.
Positions held in FUO by Professor Christopher Onyema include: Coordinator, General English Programme; Head, Department of General Studies; and pioneer Head, English and Communication Studies. Prof. Chris Chinemerem Onyema, has also served as the University Orator, Director of Institutional Advancement and Linkages as well as Dean, Faculty of Education, a position he was holding before his emergence as DVC elect.