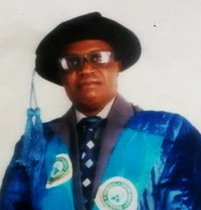 Yousuo Donald Iruo holds the Nigeria Certificate of Education (NCE) of the University of Ibadan and a Bachelor of Art  Degree in History Education (BA. Ed.) of the University of Port Harcourt. Before his appointment as Registrar in 2018, Mr. Iruo had served as Education Officer in the Bayelsa State Ministry of Education.
In 1999, Mr. Iruo transferred his services to the Federal College of Education (Technical) (FCET) Omoku and rose through the ranks to the post of Principal Assistant Registrar (PAR) in 2007, during which period he served in different capacities and in various arms of the Institution.
Following the establishment of the Bayelsa State College of Health Technology in 2005 by the Bayelsa State Government, the need for experienced Administrators to nurture the young Institution became imperative, and thus Mr. Iruo further transferred his services to the College from the F.C.E.T. Omoku in 2008. In 2010, he was promoted to the rank of Deputy Registrar (DR) and later served as Ag. Registrar from 2012-2015.
Mr. Iruo has also served as Ag. Registrar in the Teachers' Training Academy (T.T.A.) Toru-Orua, Bayelsa state, before being appointed as the substantive Registrar of Federal University Otuoke in 2018.
Mr. Iruo belongs to many professional organisations which include:
• Fellow Institute of Corporate Administration
• Member Nigeria Institute of Management (NIM)
• Member Institute of Strategic Management
• Member Teachers' Registration Council
• Member Association of Nigerian University Professional Administrators (ANUPA)
E-MAIL