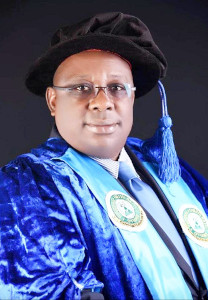 Prof Teddy Charles Addias
Teddy Charles Adias is a Professor of Haematology / Blood Transfusion Science and the Vice-Chancellor, Federal University Otuoke, Nigeria. His core responsibility is to provide leadership to the University around the development of academic, research, regional and international initiatives, and engagements. He holds the terminal degree of Doctor of Philosophy Degree (Ph. D) in Immuno-Haematology from the Rivers State University (previously Rivers State University of Science and Technology), Port Harcourt Nigeria. As well as the postgraduate Fellowships of the West Africa Postgraduate College of Medical Laboratory Science (FWAPCMLS); Institute of Biomedical Science London (FIBMS), and Medical Laboratory Science Council of Nigeria (FMLSCN). He is a member of the Board of Trustees of the West Africa Postgraduate College of Medical Laboratory Science (WAPCMLS), Haematology & Blood Transfusion Scientists Society of Nigeria (HBTSSN), and International Association of Mentors & Quality Improvement Experts (IAMQIE). He is an experienced Administrator and holds the Fellowship of the Corporate Administration Institute of Nigeria. His current research interest is on Molecular dynamics of haemato-pathological processes, blood transfusion immunology [immunomodulation and evolving concepts], blood Safety and alternatives, as well as haematology of infectious diseases. He has several years of cognate Higher Education Institution administration at apex level, as he was the Provost of the Bayelsa State College of Health Technology, Nigeria for two consecutive tenures. Before his appointment as Vice-Chancellor of the Federal University Otuoke, Bayelsa State, he was the Deputy Vice-Chancellor as well as the Director of Information and Communication Technology of the University.
RESEARCH INTEREST
Molecular Haematology, Haematology of Infectious Diseases, Blood Transfusion Safety and Alternatives.
UNIVERSITY EMAIL
PUBLICATIONS